On Site Camping is Full!!
Reserve your campsite(s

)

for all/any of the following

nights

:

June 6, June 7, June 8, June 9, 2019
For camping reservations submit a completed request form.
Reservations close on May 22, 2019.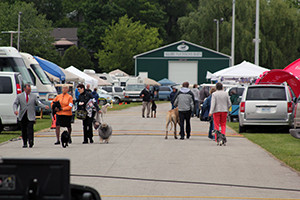 Camping is on manicured grass. All camping is accessed from paved roadways. Campsites will be pre-assigned in the order that reservations are received and paid for—RESERVE EARLY!
As soon as we have received your reservation with payment and have allocated you a site, we will mail you a confirmation. Therefore, in addition to the information on your unit, we also require your full postal address, telephone number and E-mail address. If you wish to camp with friends on adjacent sites, they must be in the same envelope when received by the camping director.
There are limited water and hydro hookups available. All sites are $30 per day or $100 for 4 days if you book all four days. Ample free parking for cars and vans, with day use of electric power for vans and cars is available at $15 per day. The camping director will be in complete control of the trailer parking and your co-operation is appreciated. Reservations close on May 22, 2019. Any reservation received after the closing date will be charged a $5 per day late fee for each day of the show.
• Campers and Exhibitors are requested to use the east entrance of the fairgrounds.
• Leaking hose connections will be shut off, RV holding tanks must be used.
For camping reservations submit a completed request form (click here) & cheque (payable to Erie Shores Kennel Club) to :
PLEASE NOTE: Absolutely NO ACCESS to the fairgrounds until Noon on Thursday, June 6, 2019
(by order of the Caledonia Fair Grounds Board of Directors)
The site confirmation number will be emailed as soon as the reservation is received by the camping director. Please contact Dianne if you do not receive your site number within 2 weeks after you mail your reservation request.

For snail mail confirmation of site number, please ensure the reservation request reaches the camping director on or before Monday, May 14, 2018.
Alternative camping is available at GRAND OAKS PARK, CAYUGA (8 minutes from our Show Site). For reservations call 905/772-3713 or e-mail info@grandoakspark.com. Check out the website at www.grandoakspark.com.
A 'pump out' truck may be available.....more details later.