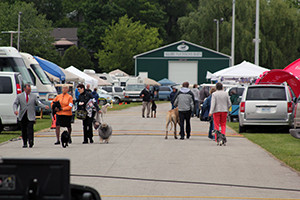 Camping is on manicured grass. All camping is accessed from paved roadways. Campsites will be pre-assigned in the order that reservations are received and paid for—RESERVE EARLY!
As soon as we have received your reservation with payment and have allocated you a site, we will mail you a confirmation. Therefore, in addition to the information on your unit, we also require your full postal address, telephone number and E-mail address. If you wish to camp with friends on adjacent sites, they must be in the same envelope when received by the camping director.
There are limited water and hydro hookups available. All sites are $40 per day, $135 for 4 days or $160 for all 5 days. Ample free parking for cars and vans, with day use of electric power for vans and cars is available at $15 per day. The camping director will be in complete control of the trailer parking and your co-operation is appreciated.